Enbridge's Line 5 at Michigan Public Service Commission
Posted 1 year, 9 months ago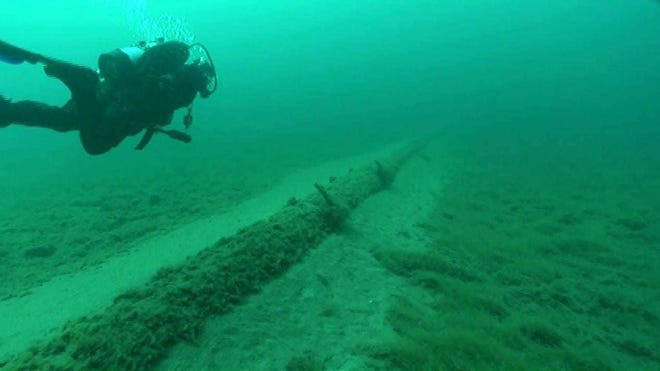 It is common these days to hear of a leak in an oil pipeline that wreaks havoc on the surrounding environment. Many experts say Enbridge's Line 5 could fail at any time. This oil pipeline flows beneath the Straits of Mackinac, connecting Lake Michigan and Lake Huron. A pipeline failure in this location would devastate Michigan's waterways, wildlife, citizens' livelihoods, and tourism industry.
Relocating Line 5 to a tunnel beneath the Straits of Mackinac has been approved by the Republican-led Michigan Legislature, however, it still needs permission by the Michigan Public Service Commission (MPSC) to move a four-mile segment into a tunnel that will run beneath the Straits. This is allowing numerous environmental groups and Tribes to get involved and attempt to safely decommission Line 5.
Opponents would like to see the MPSC do a comprehensive review of the entirety of Enbridge's project, requesting that the Administrative Law Judge review Michigan's long-term energy needs, climate impacts, safety, and environmental concerns, and more. However, Enbridge has urged MPSC to take a narrow view, calling those issues irrelevant to the proceeding at hand.
Share on Twitter
Share on Facebook
Back to Blog
---
---
Mailing Address
(For both locations)
Olson, Bzdok & Howard
420 East Front Street
Traverse City, MI 49686
Traverse City
Olson, Bzdok & Howard
420 East Front Street
Traverse City, MI 49686
| | |
| --- | --- |
| Ph: | (231) 946-0044 |
| Fax: | (231) 946-4807 |

Hours: M-F, 8:30am-5pm
Frankfort
Olson, Bzdok & Howard
427 Main St.
2nd Floor
Frankfort, MI 49635
| | |
| --- | --- |
| Ph: | (231) 352-4412 |
| Fax: | (231) 946-4807 |

Hours: By Appointment