James M. Olson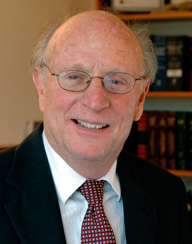 E-mail: olson@envlaw.com
---
Of Counsel to the firm, Jim has been practicing law since 1972 in the specialized practice of Environmental, Water, Land Use, Natural Resources, Municipal, Real Estate, Toxic Tort, and Hazardous Waste Law. A graduate of Detroit College of Law (Michigan State University College of Law), he also earned a postgraduate Master of Law Degree from the University of Michigan Law School in Public Lands, Natural Resources and Environmental Law.
Jim has lectured at the Michigan Department of Natural Resources Leadership Institute, and at numerous professional associations, universities, and other organizations in the United States, Canada, and Brazil. He has written and published books, one on Michigan Environmental Law, and many articles on environmental and land use law.
Jim is a member of the American Bar Association and the Environmental Law Section of the State Bar of Michigan, licensed to practice law in Colorado, and President and Founder, FLOW For Love of Water, Great Lakes Water and Public Trust Policy Center. His awards include Michigan Lawyer of Year, State Bar Champion of Justice, and he is rated AV by Martindale Hubbell and is listed as a Michigan's Super Lawyer.




Publications
ENVIRONMENTAL LAW

Michigan Environmental Law
(Neahtawanta Press, 1981, 344 pp)
"The Michigan Environmental Protection Act:
An Experiment That Works,"
64 Michigan Bar Journal 181
(1985)

"Attorney Fees and Costs Allowance According to the Michigan Environmental Protection Act,"
8 Michigan Environmental Law Journal 1, p. 2
(1988)

"Ecology, Burden of Proof and Ethics,"
20 Environmental Law 891
(Sept. 1990)

"Environmental Consultant Contracts and Other Agreements,"

Avoiding Environmental Liability in Michigan,
(Nat. Business Institute, 2001)
"Creeping" (Solon Creek, Esq.)
5 Mich Bar Journal 422
(1995)

PUBLIC LANDS AND WATER

"Navigating the Great Lakes Compact: Water, Public Trust, and International Trade Agreements,"
2006 Mich. State L. Rev 1103
(2007)
"Finding the Gradient of Water Law,"
St. Bar Michigan, Env'l Law Section 25
(June 18, 2004)
"Great Lakes Water,"
80-Dec. Mich B.J. 32
(2001)
"Public Natural Resource Law: Toward a Public Lands Ethic," 56 Journal of Urban Law 739
(1979, 250 pp)

INTERNATIONAL LITIGATION AND THE GREAT LAKES

Cross-Boarder Litigation: Environmental Rights in the Great Lakes Ecosystem
(Carswell, 1986, 410 pp)
(co-authored with P. Muldoon & D. Scriven)

THE PUBLIC TRUST DOCTRINE

"Public Trust Doctrine,"
Michigan Environmental Law Deskbook, ICLE
(1992)
(co-authored with J. Noonan)
"The Public Trust Doctrine,"
1975 Detroit College of Law Review 161
(1975)

ENVIRONMENTAL ISSUES IN REAL ESTATE TRANSACTIONS

A Property Owner's Environmental Guidebook: Natural Resources and Environmental Issues in Residential and Small Business Real Estate Transactions
(Grand Traverse Regional Environmental Institute, 1991)
(co-authored with J. Noonan)

UNCONSTITUTIONAL TAKING OF PROPERTY

"Takings in Michigan: Private Property and Environmental Protection,"
2 Mich Law & Policy Rev. 261
(1997)
"Calming the Waters of the Private Property Rights Movement,"
1995 Detroit College Law Review 35
(1995)
"The Role of Fairness in Takings Law,"
3 Urban Law 440
(1971)

LAND USE, ZONING AND REFERENDUM

"Beyond Local Zoning: Regionalism and Environmental Duties,"
1979 Detroit College Law Review 371
"Local Power of Referendum,"
50 Journal of Urban Law 209
(1972)


Admitted to Courts
All Michigan Courts, including Supreme Court, Court of Appeals and all trial courts
All Colorado Courts, including Supreme Court, Court of Appeals and all trial courts
U.S. District Court, Western District of Michigan
U.S. Court of Appeals, 6th Circuit


Professional Presentations and Other Instruction
He has given the following presentations and instruction:
Lecturer
University of Michigan
New Ground Conference
(1982)
Lecturer
Universidade Estadual Paulista Campus de Sao Jose Do Rio Preto, Brazil
(March 1985)
Lecturer
Presentation to Attorney General and Staff
State of Sao Paulo, Brazil
(March 1985)
Lecturer
Canadian Administration of Justice Institute
Environmental Law: Uncertainty and Risk
(October 1988)
Lecturer
Michigan Department of Natural Resources
Natural Resources Leadership Institute
(January, 1988)
Lecturer
University of Michigan Law School
Symposium on Lucas and Takings Law
(January 1993)


Awards
Kroupa Environmental Lifetime Achievement Award, Northern Michigan Environmental Action Council
(2010)
Milliken Leadership Award, Michigan Land Use Institute
(2010)
Champion of Justice Award, State Bar of Michigan
(2010)
Michigan Environmental Council Special Recognition for Environmental and
Public Interest Advocacy
(2001)
Michigan Lawyer of the Year, Michigan Lawyers' Weekly
(1998)


Reported Decisions
Jim has appeared as an attorney of record for one of the parties or an amicus in the following reported decisions:
Taxpayers and Citizens in the Public Interest v Department of State Highways
70 Mich App 385; 245 NW2d 761 (1976)
People v Duhamel
72 Mich App 77; 248 NW2d 670
(1976)
Superior Public Rights v DNR
80 Mich App 72; 263 NW2d 290
(1977)
PBB Action Committee v DNR
403 Mich 251; 268 NW2d 240
(1978)
Environmental Action Council v Natural Resources Commission
405 Mich 741; 275 NW2d 538
(1979)
Citizens Ins. Company of America v Tunney
91 Mich App 223; 283 NW2d 700
(1979)
Cady v Dick Loehr's Inc.
100 Mich App 543; 299 NW2d 69
(1980)
UAW v Bear Archery
617 F2d 157
(1980)
PBB Action Committee v DNR
155 Mich App 356; 320 NW2d 376
(1982)
People v Hubbard
115 Mich App 73; 320 NW2d 294
(1982)
Committee for Sensible Land Use v Garfield Township
124 Mich App 559; 335 NW2d 216
(1983)
Kalkaska v Shell Oil
157 Mich App 227; 403 NW2d 474
(1986)
Upjohn v New Hampshire Insurance
438 Mich 197; 476 NW2d 392
(1991)
Friends of the Crystal River v USEPA
794 FSupp 674
(WD Mich, 1992)
Friends of the Crystal River v USEPA
35 F3d 1073
(CA 6, 1994)
Miller Brothers v DNR
203 Mich App 674; 513 NW2d 217
(1994)
Traverse City Light & Power v Home Insurance Co.
209 Mich App 112; 530 NW2d 150
(1995)
K & K Const, Inc v DNR
456 Mich 570; 575 NW2d 531
(1998)
Nemeth v Abonmarche Development Co
475 Mich 16; 576 NW2d 641
(April 21, 1998)
Burt Township v DNR
459 Mich 659; 593 NW2d 534
(1999)
Township of Bingham v RLTD Railroad Corp.
463 Mich 634; 624 NW2d 725
(2001)
National Wildlife Federation v Cleveland Cliffs Iron Co.
417 Mich 608; 684 NW2d 800
(2004)
Michigan Citizens for Water Conservation v Nestle Waters North American Inc.
2005 WL 3193717; ____Mich App ____
(2005)
Michigan Citizens for Water Conservation v Nestlé Waters North America Inc.
479 Mich 280; 737 NW2d 447
(2007)
Anglers of the AuSable v Michigan Department of Environmental Quality,
283 Mich App 115; 770 NW2d 359
(2009)
Whitman v Galien Township
___ Mich App___; ____ NW2d ____; 2010 WL 2330378
(2010)


Professional Associations
Michigan Bar Association (MBA)

MBA Environmental Law Section
MBA Real Property Section
MBA Administrative Law Section

Fellow, Michigan State Bar Foundation
Colorado Bar Association
American Bar Association
Founder and President of FLOW (For the Love of Water), a Non Profit Great Lakes Water Rights Protection Coalition
Mailing Address
(For both locations)
Olson, Bzdok & Howard
420 East Front Street
Traverse City, MI 49686
Traverse City
Olson, Bzdok & Howard
420 East Front Street
Traverse City, MI 49686
| | |
| --- | --- |
| Ph: | (231) 946-0044 |
| Fax: | (231) 946-4807 |

Hours: M-F, 8:30am-5pm
Frankfort
Olson, Bzdok & Howard
427 Main St.
2nd Floor
Frankfort, MI 49635
| | |
| --- | --- |
| Ph: | (231) 352-4412 |
| Fax: | (231) 946-4807 |

Hours: By Appointment