Blog
Environmental Lawyer
---
The international community closed out 2018 by agreeing on the "rulebook" for implementing the 2015 Paris Climate Agreement at the 24th Conference of the Parties to the United Nations Framework Convention on Climate Change in Katowice, Poland, known as "COP24."
Read more...
/
0 comments
---
Published in Michigan Environmental Law Journal, Fall 2018, Vol. 36, No. 2, Issue 105 [view full article].
Cite: 36 Mich Env Law J 2 (2018)
Read more...
/
0 comments
---
Posted 3 years, 1 month ago
Among the flurry of recent lame-duck activity in the Michigan Legislature was SB 1210, a bill sponsored by Senator Tom Casperson (R – Escanaba), which was aimed squarely at the tiny, pastoral township of Metamora, located near the center of Michigan's thumb. Under Metamora's glacially-formed, gently rolling hills lies a significant deposit of gravel and other aggregates, coveted by mining companies for decades. Gravel mining has long been present in the township; four separate mines are currently operating. But in 2015, aggregates giant Levy Company sought township approval for a new mine more than 500 acres in size, the approval ...
Read more...
/
0 comments
---
Posted 3 years, 2 months ago
Lydia Barbash-Riley was elected as a council member of the Environmental Law Section of the State Bar of Michigan. She will assist the Council in general supervision and control of the affairs of this Section, such as with reviewing laws and regulations that deal with the conservation and development of the natural resources of this State and its environment. The Section also promotes the fair and just administration of those laws and regulations which implement the mandate of Article IV, Section 52, of the 1963 Constitution of Michigan. Click here for additional information on the State Bar's website about the ...
Read more...
/
0 comments
---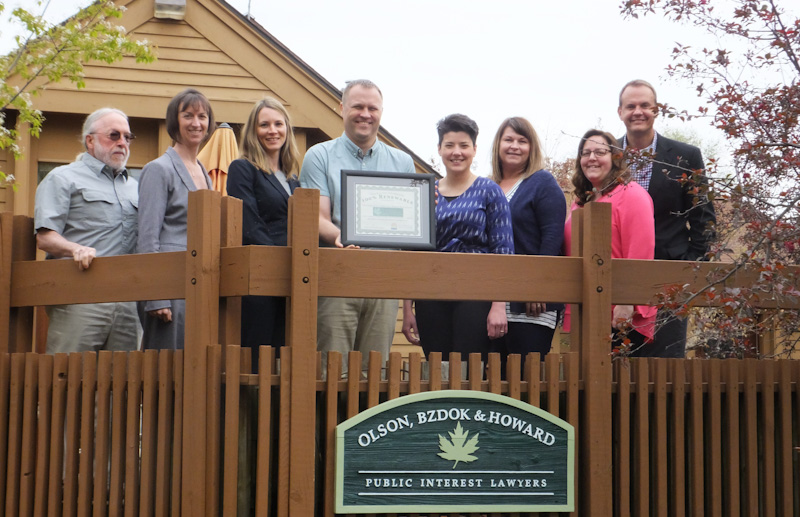 Read more...
/
0 comments
---
Mailing Address
(For both locations)
Olson, Bzdok & Howard
420 East Front Street
Traverse City, MI 49686
Traverse City
Olson, Bzdok & Howard
420 East Front Street
Traverse City, MI 49686
| | |
| --- | --- |
| Ph: | (231) 946-0044 |
| Fax: | (231) 946-4807 |

Hours: M-F, 8:30am-5pm
Frankfort
Olson, Bzdok & Howard
427 Main St.
2nd Floor
Frankfort, MI 49635
| | |
| --- | --- |
| Ph: | (231) 352-4412 |
| Fax: | (231) 946-4807 |

Hours: By Appointment