Blog
Watch for our latest news here.
---
Posted 10 months, 2 weeks ago
We are excited to announce that Tracy Jane (TJ) Andrews has accepted a position on Michigan Attorney General Elect Dana Nessel's transition team. For more information, see the Press Release dated November 13, 2018.
Read more...
/
1 comment
---
Posted 11 months, 1 week ago
Lydia Barbash-Riley was elected as a council member of the Environmental Law Section of the State Bar of Michigan. She will assist the Council in general supervision and control of the affairs of this Section, such as with reviewing laws and regulations that deal with the conservation and development of the natural resources of this State and its environment. The Section also promotes the fair and just administration of those laws and regulations which implement the mandate of Article IV, Section 52, of the 1963 Constitution of Michigan. Click here for additional information on the State Bar's website about the ...
Read more...
/
0 comments
---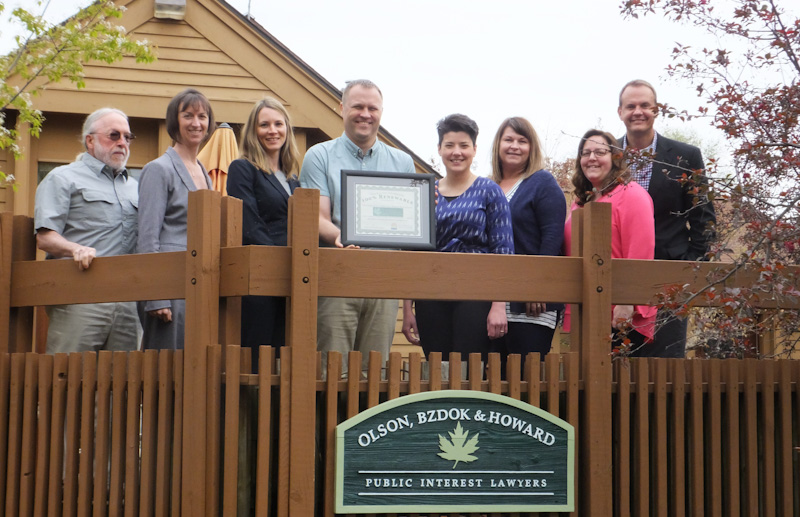 Read more...
/
0 comments
---
Jim Olson, founding partner of Olson, Bzdok & Howard recently wrote an op-ed article for Toledo's The Blade related to Lake Erie's algae issue which has been designated by Ohio EPA as "impaired" under the Clean Water Act (CWA). For the full article please click here: The Blade (09-01-18)
Read more...
---
Posted 1 year, 1 month ago
The Empirical Environmental Scholarship article was co-authored by Lydia Barbash-Riley, associate attorney at Olson, Bzdok & Howard. For a brief overview we have included the abstract from the publication below. For the full article please click here.
Read more...
---
Mailing Address
(For both locations)
Olson, Bzdok & Howard
420 East Front Street
Traverse City, MI 49686
Traverse City
Olson, Bzdok & Howard
420 East Front Street
Traverse City, MI 49686
| | |
| --- | --- |
| Ph: | (231) 946-0044 |
| Fax: | (231) 946-4807 |

Hours: M-F, 8:30am-5pm
Frankfort
Olson, Bzdok & Howard
427 Main St., 2nd Floor
Frankfort, MI 49635
| | |
| --- | --- |
| Ph: | (231) 352-4412 |
| Fax: | (231) 946-4807 |

Hours: M-F, 8:30am-5pm